Summer of 2009, and a new update!
Well, a lot has been happening since the last update to this site. Hell, a lot has been happening since I STARTED this website! Yahoo is shutting down their free websites, and so thank goodness for Tripod, our new home! I suppose I should start out where we left off, so here goes: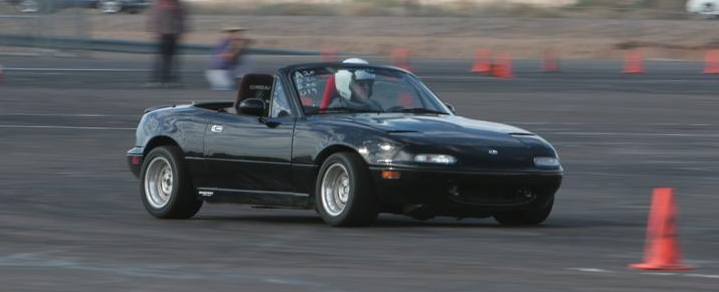 We teamed up with Steve Ashcraft in purchasing a set of the new FAT Hoosier 13" A6 tires, and used his LightSpeed wheels, 9" wide. Don ran in our local Sportsman class, pretty much for anyone who does not run in the usual classes and needs run group choice. Funny thing is, he could have won the series in CSP Open, but Steve took the Fall Series, with Dave second. This is another case of it being cheaper to drive the car to the event and change tires there rather than tow and pay for gas. You see Steve lives up in Paulden, AZ, which is at least a 2 hour drive, and to tow his car down cost more than what he has invested in sharing tires and paying entry fees for the car owner! Yeah, we need to win the freakin' lottery one of these days, but they say you have to play to win, and even though I try the play, I just don't seem to win! So, we have what we have, and make the best of it!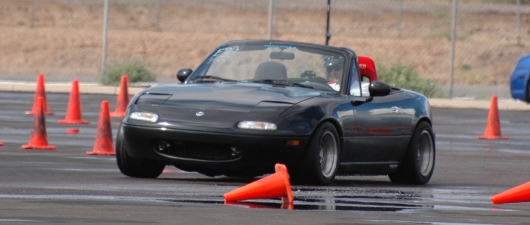 Gotta say, these new tires are just AWESOME! Although we found out at the 2009 San Diego National Tour that they just can't keep up with the bigger and wider 15" tires on a longer course. Here in Phoenix, they might be the hot ticket, but go somewhere with a better and bigger lot, and we are back to that "best of the rest" nonsense again. Argh!!!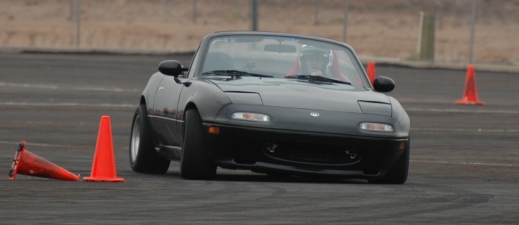 With three aggressive drivers, a set of these tires lasted about 120 runs, and started to really fall off toward the end. For the San Diego Tour event in March '09, we had a brand new set, and still have most of that rubber, as the skidpad we've been using for years at Firebird Raceway this spring series was resurfaced, and they did a lousy job of it. It gravels up so badly that there is really no grip unless you follow the line set by previous runners, and there is certainly no room for error, since the "clag" is so bad offline, it is useless to try and do anything but follow the beaten path. And that sucks, because the previous runners usually include slow cars that crawl along from apex to apex and don't really drive a good line at all. We ran mostly later in the day. and it was truly frustrating; aggravating, really!!! Oh yes, and add to that, it rained the first two events, and then the last one was a hot day. That surface got gooey and sticky for your shoes, but put a tire on there, and the sand and rubber built up and piled up "offline," where some of us more experienced drivers in faster cars like to be! Yup, aggravating for sure !!! Okay, and maybe just a little fun, as you can see by the two of us laughing our asses off after a little sideways adventure: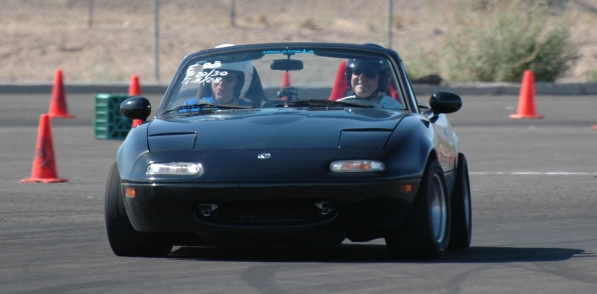 Dave did some lack-of-sleep driving the first two events, so did really poorly. Steve didn't fare much better in CSP Open for the spring 2009, and our friend Mark Johnson took the series with Dave in second, winning the last too events, but too late to overcome the first two results. Meanwhile, Don did pretty good in the Sportsman class against some of our National Champion drivers who tend to flock to that class for run group choice.
Steve is a longtime Porsche Club member, so he and I have been doing some of their events as well. Mind you, not on the expensive Hoosiers, but some old roadrace tires that I have. It's been REALLY fun, since the have a whole different format than SCCA events. You usually get two practice sessions with flying laps, then your timed laps are flying laps as well, three in a row, and the best one is your time for the day. This is just SUPER good fun, with a lot less entrants, and great folks, mostly. You know what they say about Porsches and porcupines, right? Well, sometimes that is true, but most of the good drivers are good folks as well!
So, Steve and I were driving home from the last event, and got to talking, "You know, it would be fun to run a Porsche event in a Porsche!" So, more discussion, and we ended up buying a 1975 914! It was advertised as a 2 liter car, but turned out to be a 1.8 engine when we got it to my place. Speaking of that, it was running crappy, but we think we have found out why, and working on it. The good news is that it has fresh paint and only 57K miles on it! Pretty much as it came from the factory, but we have plans!!! Yeah, you betchya! Hahaha... Here are a couple pics from the ad: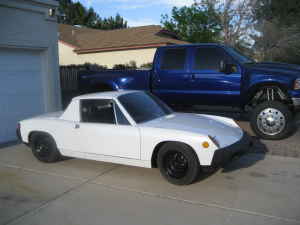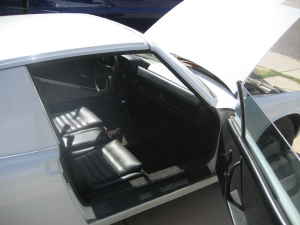 For the Summer Series, the Phoenix SCCA Solo folks are having two weekend events at a law enforcement training facility up in Taylor, AZ. It is a pretty nice lot, and the weather will be cooler than here in the Valley of the (way too damn hot) Sun. Mid May, and it is already over 100 degrees. The Flagstaff group will be running 3 weekend events up there, so we have autocrossing to do, and opportunities to get the hell out of ... Hell!
Who knows what Firebird is going to do about the skidpad. It is unusable. I guess we have made arrangements to use either the Bondurant lot, usually reserved for the school, or the West track, where we had an event last weekend. Now THAT was a blast! Yeah, it was hotter than hell, but 2 1/2 gallons of water and fluids, a job in the trailer, doing announcing, an umbrella, and avoid the direct sun as much as possible, and it was not too bad! I say that after experiences with heat stroke and other times when I was not so prepared. Don and Steve "wimped out" because it was going to be too hot, but they sure missed a fun event! I ran the STS car on some new Bridgestone RE-11 tires that we bought for the summertime events (pictured below), and are they nice !!! Might just have to rethink this expensive tire stuff ...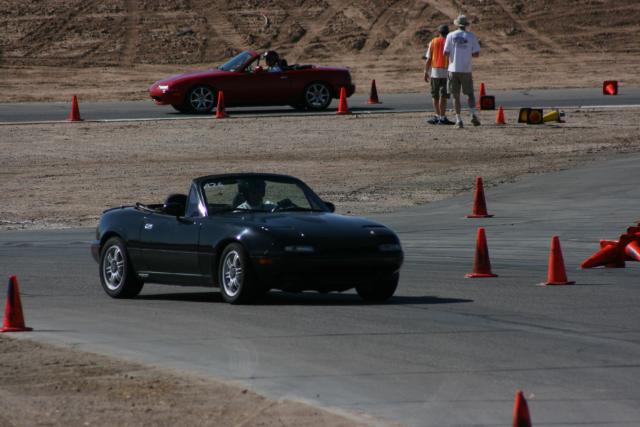 More to come as news and updates occur ... (May 18th, 2009)