Summer of 2010, and a new update!
Well, I guess it is time for my yearly update! LOL. I bought a '99 Sport that got in a tangle with another car, admittedly faulty judgment led to a driving error, and the right front was crunched pretty badly. Here is the famous before picture, in his driveway, before that fateful day: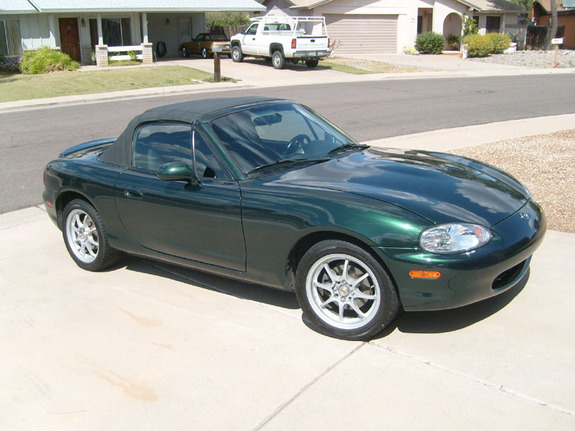 The previous owner had started to strip and sell parts off it, and FINALLY, after MANY emails and calls, and nagging in person, the guy decided to sell it to me, and a price was struck. I went and got it, and here is what came home with me that day:
I met a guy, who was looking for parts, who does paint and body work, so I immediately set out to find a fender, front bumper, and control arms for that corner, since they were both bent. Also a headlight surround section of the left side, since that had all been crunched in. Two headlights, seats, header and exhaust, many MANY bulbs (I think he kept them all!), seatbelt latch straps, and all sorts of little things, and off to get painted. Carl did a GREAT job fixing the hood, "I even surprised myself," he said, and we decided on a satin black airdam, since that was most likely going to be a cone impact area (no shit!), and he had some leftover paint from other projects, so we decided to try something different:
We jacked it up and stripped out all the pieces that would get in the way, down at Carl's Dad's shop, and he went to work. He welded in the new headlight mounting section, and straightened the hood, hammer here, little fix there, and we did the front end bushings while it was up in the air. Then, start putting it all together, or at least getting ready to, Carl and his dad looked at the upper mount on the driver side, and much to my dismay (and increasingly draining wallet), it was bent, and there was no fixing it. A quick call to Flyin' Miata, from whom I got the bushing kit, and there was a front subframe on the way. That took a couple of days to get here, but FINALLY, the assembly process began. About a day and a half on this, until she hit the ground again:
I still hadn't sorted out the exhaust yet, as the flanges between Jackson Racing header, and Racing Beat midpipe were no way in HELL ever going to bolt together. But, I drove it home, with my very first Miata's license plate on it, and put it out back to work on that. I fudged up something, but it was not that great, although it was not DEAFENING like the ride home had been. I had some Bilstein Sport shocks that came off another '99, and put some coilovers and springs on them. Just an eyeball alignment, and off to Steve's to try and sort some more, as it was too damned HOT in Phoenix to do much, by this point. However, I did get some Hankook tires, the new R-S3 that is kickin' butt in the ST classes, so mounted those up, and off to Paulden!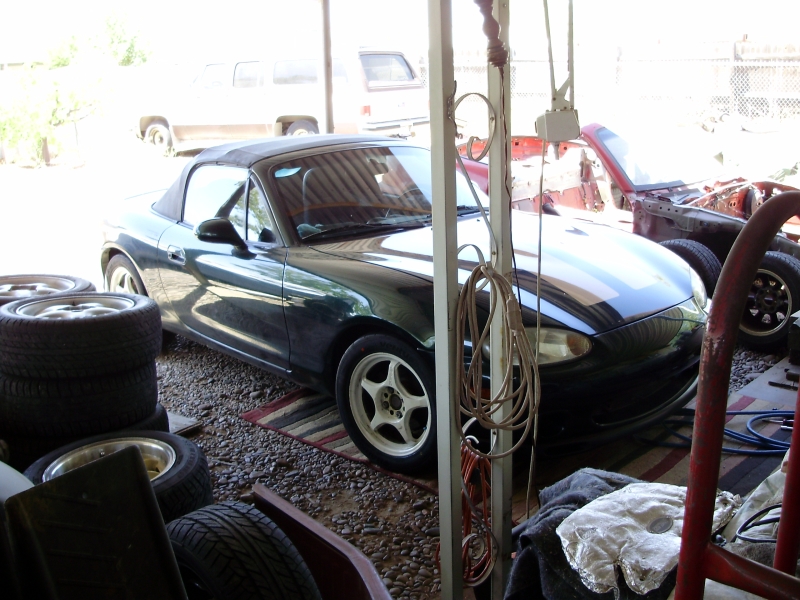 That suspension didn't really work out too well. We couldn't lower the car, and in fact, it was riding even HIGHER than a STOCK Sport! So, I pulled out an old CSP setup that we had used, for the earlier Miatas, and made them work on THIS car. Back up to Paulden again, and MORE work, a better alignment, and voila! We got ourselves a quick little autocrosser!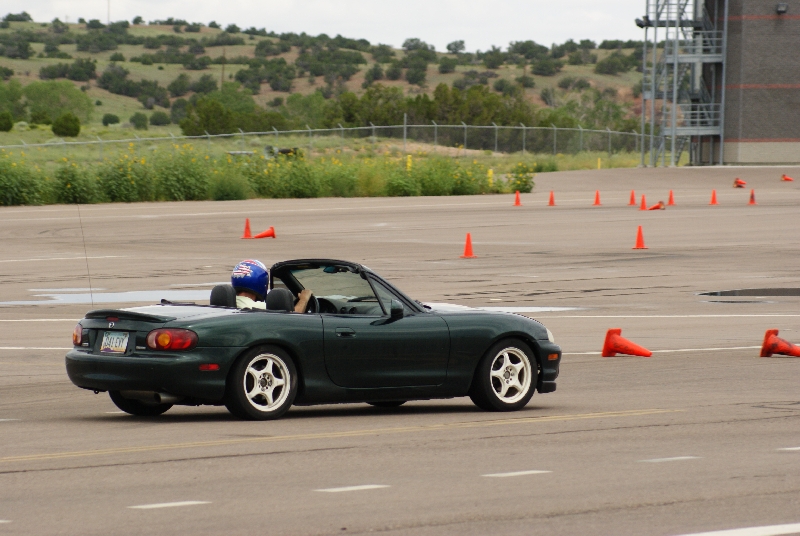 So, here are some pics from the recent weekend in Taylor, Arizona. There is a police and fire department training skidpad up there, and we got to use it last summer, and again this summer, although only two weekends, not four like last year. It ain't much of a town, but who cares!? It is a great pad, and good course designs, and the weather up there is just FANTASTIC! Yes, you might get rained on, and we did, but you know what? That beats the hell out of BAKING in the Valley of the Way Too Damned Hot Sun!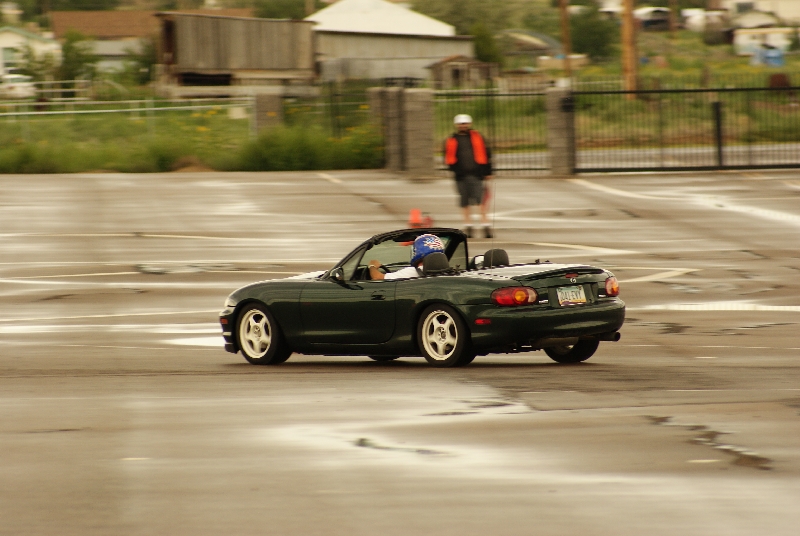 Steve and I had a great time, and here he is:
The car is pretty good now, seems set up pretty well, and all we need are some wider rims to spread out those tires a bit. All I have are 15x7" wheels at this point, so some 15x8 or even 9" rims would give us some bigger contact patch, like the other guys running the '99s. Mind you we are behind the newer NC MX-5 (Miata redesign in 2006), but the rest of us are all within tenths of a second of each other.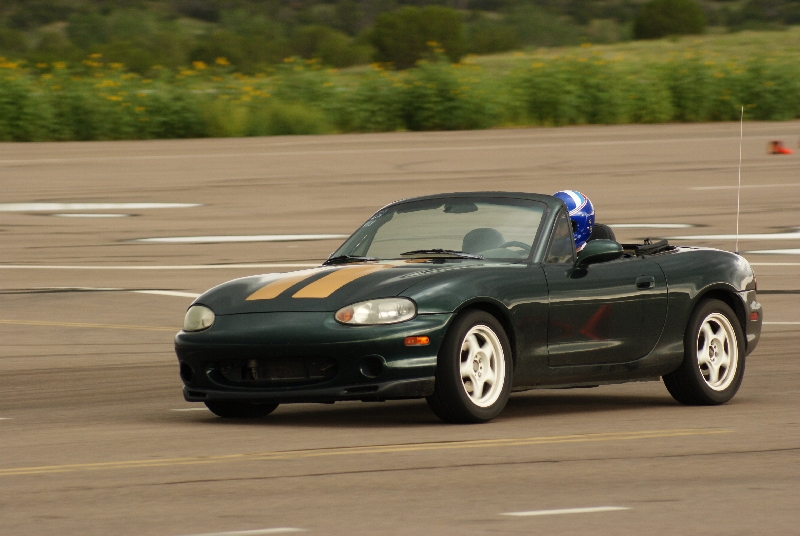 So, with no money to buy new tires for Steve's CSP car, it looks like we will join the STR class for the Fall Series, and see how things go. The car IS fun to drive, and we're back running with Don again, who built his '99 for this class, and it should get interesting! Hopefully us old pharts will put a whoopin' on the young gun, who just HAPPENS to be the guy I bought the Sport from! We'll see ...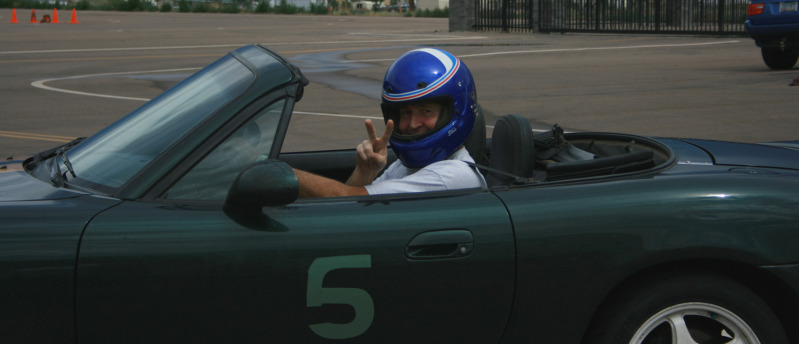 ... (August 12th, 2010)