Got a new toy this week !!!
I found a 1999 Miata Sport with 45K miles on it. It has some bling that I don't really like, but will be putting stock parts back on it. Just mounted up the tires on the Konig Helium wheels that I had, and took a few pics! Here's me talking to Don on the phone while my Dad takes it out for a testdrive. "Sexiest car I have ever seen," he says:
And here are the new wheels installed!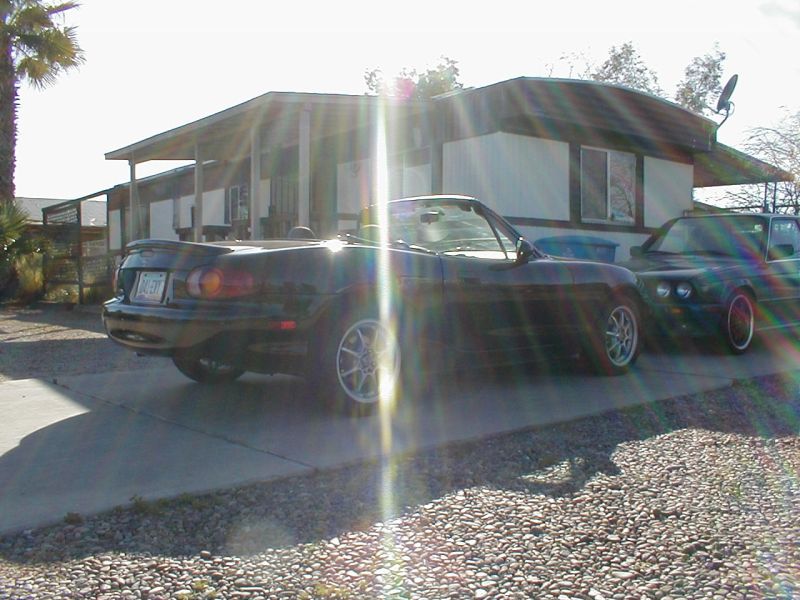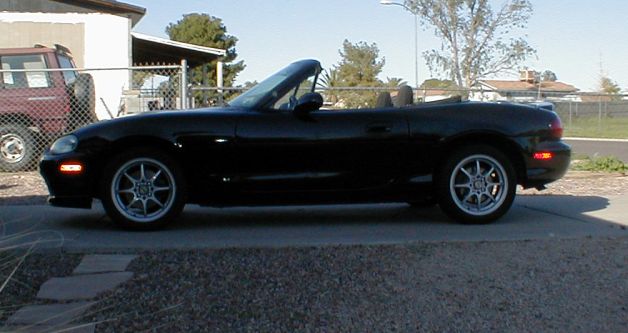 I also took the 25 pound muffler off and made my own dump pipe from an old flange and a turndown. It sounds a lot nicer, more like a real sports car, and is just a little raspy on full throttle, but I noticed the extra power, or is that just noise and less weight? Well, sure seems to get to the redline quicker!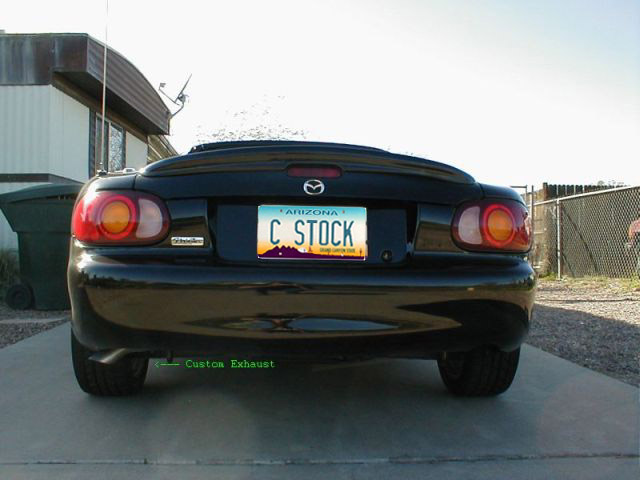 Don loaned his OEM wheels to use, and the Bridgestone Potenza S-03s that were on them. That is what I put on the Heliums and then mounted some used Kumho 710s on the stock wheels. We may take a shot at C Stock for the summer series, as we also installed the Racing Beat swaybar and braces up front. "Catback" is done, so pretty much all that is allowed.
Just had to share the thrill, as I have always been a dyed in the wool NA Miata guy, but after driving Jeff Hancock and Matt Soeffner's NB cars, and with Don having one as well, I found this little beauty and pulled the trigger! It really IS a nicer tamer Miata, and drives great! Me likey!!!
Update: Put the stock muffler back on, as the turndown attracted the wrong kind of attention; complaining neighbor saying I was going "too fast." It was merely the noise, not the speed. Some people, eh? Sheesh.
July '08
We ran the Sport in Time Only runs when a guy came to test drive it (I actually had it for sale, until, ...). Both Don and I enjoyed the car, and on this course, ran times as good as in the CSP car (with worn out tires) in the morning. So, decided to keep it. We also ran a special "Mirrorkhana" event, and did well, but I coned away the semifinal when I peeked over to see where the competition was. Oops! Shouldn't have done that. We ran the oldish Kumhos for this event, and they did well!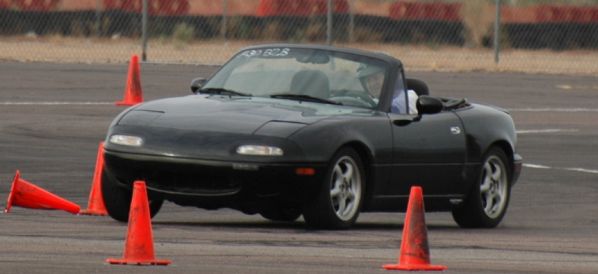 I did a trade with a guy; the Mariner for a '92 Black and Tan Miata and we have been running STS2 in Phoenix for the summer series. Not quite quick enough to catch the perennial class winner, but getting closer every event! We just might have him next time, as we are trying to improve the car. It handles great, and the Toyo R1R tires are a lot of fun, but the car is down on power a bit. Just gotta outdrive the other guy! We have also been running the Sport on these same tires up in Flagstaff, and "in the mix." It is SO great to get out of the heat, and with smaller entries, we get a lot of runs on the two-day weekend. Nice!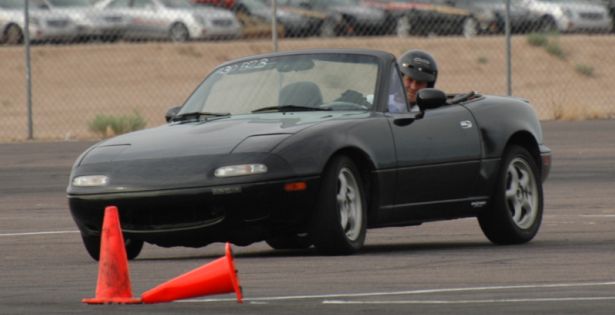 The plan for Fall is to get a set of the new FAT Hoosier A6s (255/45/13) and take one more run at CSP. If it doesn't work out, we are talking about bailing out of the expensive class and going to Street Tires, most likely STS2, as it is so much cheaper to run, and as fun, just not as fast. I know, how could we bail out on the fastest Miata class? It's purely a financial decision. Like someone told me, "Figuring out a budget assumes that you HAVE one!" I don't want to have to go back to work just yet, thank you!
Hey! There's a new page with the latest news! Click Here!
;^)